Spring is a time of awakening and growth. Dusting off and airing out, a chance to refresh our perspectives and our homes. Green seems to be the color of the season, as everything is waking up from winter, and buds start showing and shoots start popping up in the gardens.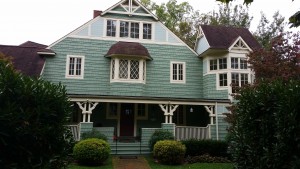 In the spirit of the season, below are some photos of a home we painted, in a warm green color. With attention to detail, your home does not have to be boring. Consider a fresh look!
Consider how your home will look, in respect to the yard, and how often you use it. An inviting space just begs to be entertained in or relaxed in.