This is the historic train depot in Sykesville, Md. The building now houses a restaurant, but that doesn't diminish the stature of this grand Victorian architecture on the National Register of Historical Places.
If you saw our previous posts on the historic Sykesville Train Depot, you learned a bit about the level of detail and care we have to take when working on a building of this type. (If you didn't see them, click here for the interior, and click here for the doors and windows, and click here for the platform eaves and overhangs.) This time, we are focusing on the gable ends and roof-line trim.
As in any painting project, the preparation is always the most tedious. It is also the most important. Scraping and stripping of the old and loose paint will make or break the lasting impact of your new paint job. With these highly decorated gable ends, with the extensive amounts of wood trim, that is doubly and triply so. Before putting on that first coat of primer, we check to be certain that it is all sturdy, and intact. we replace any rotting wood, and fix any damage we find. This first level gable end was in good shape, and ready for priming after the old paint was removed. What a difference with the final result!
The higher up on a structure, the more weathering and damage wood is exposed to. Higher elevations get stronger winds, more debris thrown from these wings, more sun exposure, and more rain exposure. All of that adds up to very weathered wood. With this upper gable end, after stripping the old paint we replaced the caulking along the seams. This helps ensure that it is sealed from water that could seep in from driving rain and snow melt, that could harm the building from leaks and water damage.
Even this attic vent on the gable had a lot of detail in the wood slats. As you can see, it looks beautiful in all of it's detail with the new paint.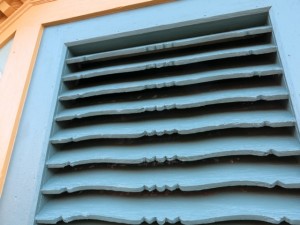 Ladders, ladders, ladders.
The time up on a ladder is necessary to make sure that all of the touch-ups are done, and paint isn't just slapped on. Our painters go over every inch with a trained eye, making sure it is sealed and coated to perfection.
The finished gable and trim is a beautiful site!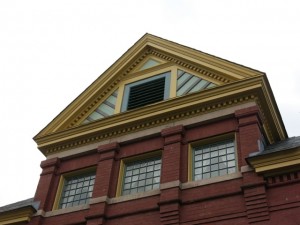 Check back tomorrow for our 5th installment in this series, the Main Entrance.